Empower 1 billion people to implement creative practice in their lives
Art is a powerful force that humanity can harness to elevate our collective consciousness to enhance wellness, reduce suffering, and empower us to design a better existence. A citizenry that engages in the arts is more connected, has elevated emotional intelligence, and is more compassionate. Engaging in and creating art promotes enhanced neurological function, improved imagination and creative problem solving skills that better equip us to solve complex problems for transformational social change.
Make Art, Make Life Better 
ARTWATER is providing platforms for diverse artistic expression through our first program, the Five Dollar Art Party. 
The Five Dollar Art Party is an accessible immersive art experience and fundraiser that is uplifting public art 
while collecting gently used
 art supplies for underserved communities and raising money for a dope cause. 
In just one year and four live events, we have featured over 150 artists, musicians, muralists, and small businesses and painted two dozen public murals. Scroll down to see the beautiful art donated by each artist for out event and to beautify historic La Tierra de la Culebra Art Park in Highland Park Los Angeles.
ARTWATER's Anniversary
Sept 23rd 2023
Join us Saturday, September 23rd 12 to 6pm to 
celebrate the first anniversary of ARTWATER and the Five Dollar Art Party! 
Donate gently used art supplies to support this elevated art experience or suggested starting donation of only five dollars to help ARTWATER provide equitable access to creative resources.
Do you love art? Want to be a part of a diverse community? 
Join ARTWATER's collective of multidisciplinary creatives. H
elp us elevate art for wellness and empower diverse artists by volunteering for one of our roles below.
Past Five Dollar Art Art Parties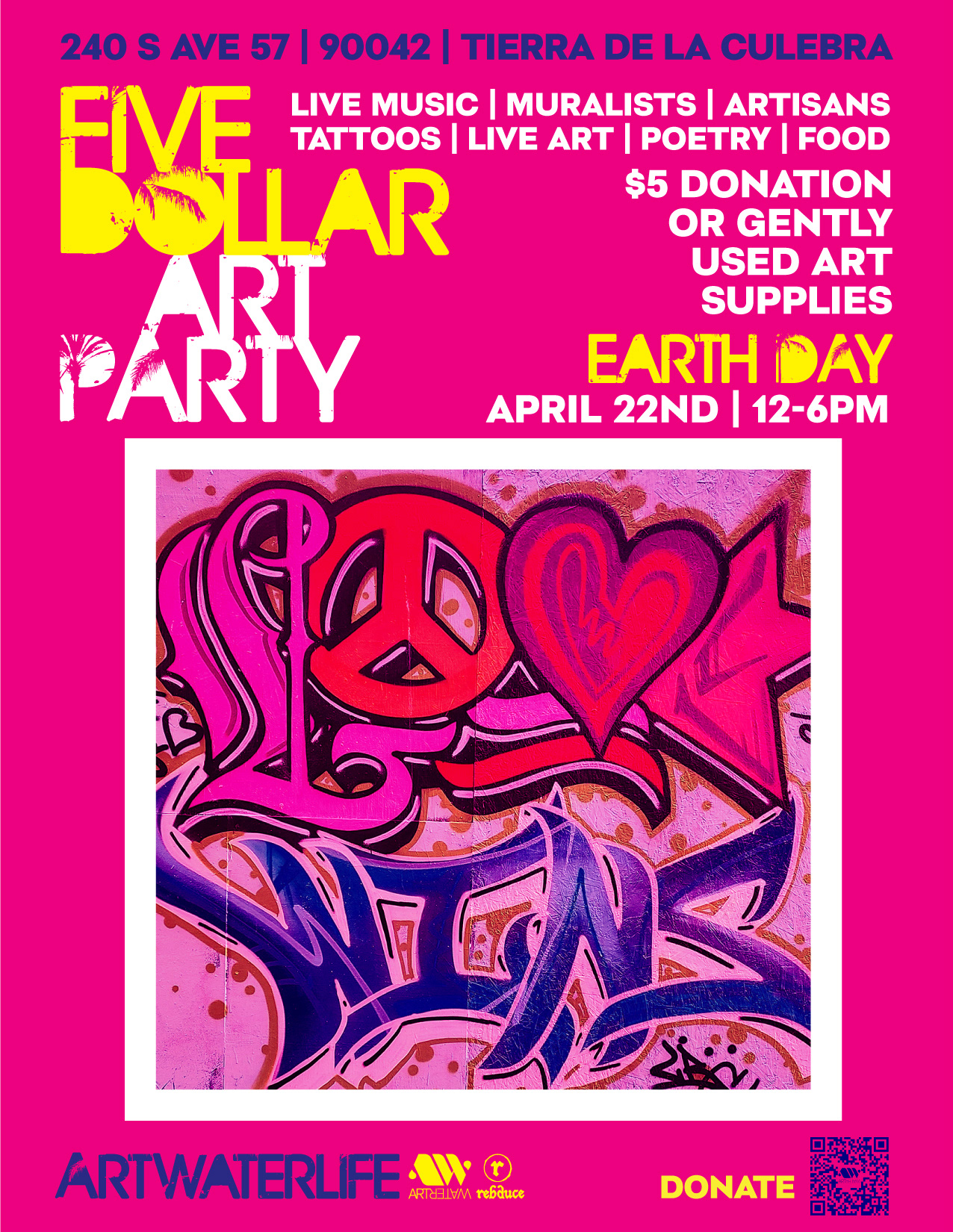 Art helps build new neural pathways to expand our consciousness, making us smarter and more innovative. 
Art brings joy, contemplation, connection to self and to others. 
Art is meditative, calms the nervous system and enhances focus. 
Art has the power to elevate humanity. 
Art makes the world a better place.